D-Day Tour Prices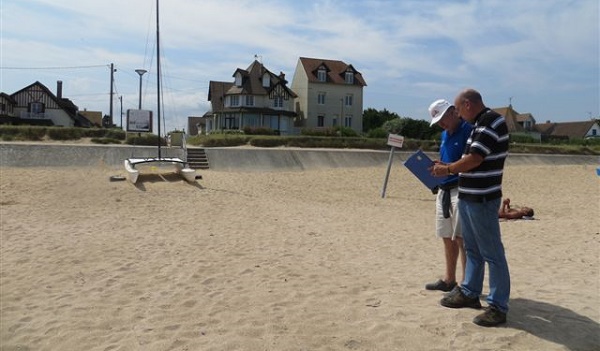 Exceptional Tours, Exceptional Value
Although our tours are are among the very best rated tours you will find anywhere, we believe our prices are extremely competitive and substantially lower than many other tour organisers. We invite you to check out our reviews on Tripadvisor and around the web and make your own comparisons.
Bear in mind that every one of our tours is a "private" tour. It will comprise you and your group, no one else. We don't do large group tours combining different parties. Every tour is for one party only and can be tailor-made to suit your preferences. Tours are also conducted at a pace that suits you.
There's a big difference between our tours and being transported around in a large group and constantly herded on and off the buses. We work hard to make ours more civilised, more informative and much more interesting.
Check Availability
Please note we have NO availability from 3 – 10 June 2024, during the 80th anniversary commemorations.
Check your dates here:
This calendar will give you some idea of the dates on which we are available for tours. If your chosen date is in RED on this calendar, I'm afraid it means we are not available that day. If the date is WHITE, there is a good chance we are available.
If you are limited to particular dates and those dates are showing as free, please get in touch as soon as possible as things can change very quickly.
One Day Tours
Prices

For one person €350

For two people €400

For three people €450

For four people €500
Two Day Tours
Prices

For one person €700

For two people €800

For three people €900, 
For four people €1,000
Three Day Tours
Prices

 For one person  €1,050

For two people €1,200

 For three people €1,350

 For four people €1,500
These prices are inclusive of all taxes and tolls, and can include pickup and drop off from hotels, train stations, etc. in the tour area. We are here to make your tour as comfortable and convenient as possible and to serve your agenda for the day or days of your tour.
Some kind words and reviews from some of our clients:
It's barely a week since we returned home to the states from a wonderfully memorable trip, of which you and Malcolm were such a big part.

I think that by now, Malcolm might have mentioned to you what I had revealed to him in the last few moments of our tour – I am a Private Tour Guide in New York.

Of course I did not want to reveal that info prior to or during our tour with Malcolm, because I knew it could make a fellow guide just a wee bit uncomfortable about being judged.

Malcolm was a masterful tour guide and mad our tour of the D-Day Beaches and the Normandy area so much more remarkable, revealing, but most importantly – moving.

The best tour guides, have a real knack for relating stories that bring history alive and Malcolm has the passion and the interest in the subject that make the D-day experience with him something very special.

…I wanted to thank you for being so accommodating at the last minute (twice)… Thanks for offering to put us up at your property and then eventually changing our private tour date that allowed us to catch a ride to Mont St. Michel.

Also, your lunch box you prepared for our tour day was delicious – in particular the ham and cheese baguette, and the wonderful homemade apple cake dessert – loved it. Good job !

Malcolm, like me, has found later in life, what he is truly built to do – relate incredibly important history that changed the world (in a very positive way) and show where it all happened.
Came to France to do the Normandy tour. Learned more from Malcolm in two days than I did in ten years at school. The accommodation was excellent and we recommend the old railway cycling track as an outdoor activity. We were privileged to avail of Alison's cooking – and it is to be highly recommended. Both Alison and Malcolm were the perfect hosts and we can't forget little Archie & Hendley (the dog and cat!).
Thank you so much for the excellent 2 day tour. It was a great experience. I had expected to see bunkers, guns, tanks, and so forth, as we did. But I had no idea that we would be treated to the many anecdotes and stories you tell so well, like that of the extraordinary bravery and skill of the glider pilots that made it possible to seize Pegasus Bridge. Or the stories of John Steele at Sainte-Mere-Eglise, of Lt. Richard Winters and Easy Company at Brecourt, of Lt. Col. Robert Cole, and others. Your extensive knowledge of the heroic exploits of the men that made D-Day a success is remarkable. That fund of knowledge combined with your passion to tell their stories made for extraordinary experience for Matt and for me, an experience that surpassed even our greatest expectations. So thank you. And a hearty thank you to Alison too for the delightful lunches. I feel very fortunate to have had you as a guide and would recommend you to anyone who wants to understand the events of D-Day.
Thank you for such an incredible day. This was the part of our trip that we were looking forward to the most, and it turned out to be the absolute highlight of our entire week. We truly felt like we were in a graduate level history course going to the various battlefield sights, churches, monuments, and beach landing sites with you. Having the opportunity to learn more about our great-uncle's experience once he was dropped behind enemy lines was truly incredible, and it was absolutely awe-inspiring to visit the American cemetery where he is buried. The personal touch that you and Alison, with her fantastic picnic lunch, added to our day was so unique. We're looking forward to sharing our experience with the rest of our family, especially our grandfather.
In Sept. 2014 my husband and I spent three wonderful days staying with the Cloughs and touring the Normandy Battlefields. The cottage, the meals, the extensive tour – all were wonderful ! Malcolm has such an extensive knowledge of the war and presents it in a professional, knowledgeable, entertaining manner. We saw so many sites that wouldn't be included on shorter tours. This was a Christmas gift to my husband and I thought I might be bored touring so many war sites, this was never the case.
Malcolm's wife, Alison, provided delicious breakfasts every morning, lovely lunches to be eaten while on the tour, and grand dinners. We ate in their dining room and they made us feel like old friends rather than guests. The cottage we had was spotless and decorated with care, plus, after Malcolm picked us up at the airport Alison had a basket with bread, cheese and other treats waiting for us.
We have traveled to many places and this tour and the wonderful accommodations/meals are at the top of our list of 5-Star experiences.
What a wonderful day we had with you! Your knowledge was incredible and your enthusiasm was contagious. And your willingness to go at our pace displayed a level of customer service from which others could well learn. We all agreed that the day was extremely informative and enjoyable, and that we would gladly do it again with you as our guide. As Glenna (aka Grandma) said yesterday as we were re-living our day with you, "anyone who is doing a D-Day tour needs to use Malcolm". I don't think there is any higher praise than from an 89-yr old woman whose husband served in the war and who lived it herself. Thanks you so very much for you knowledge, enthusiasm and kindness. If you and your wife ever come to the States and decide to pass through St. Louis, Missouri, we would be happy to host you. Best wishes in your endeavors and thanks again!
Although we were pretty ignorant about the D-Day Invasion and had no personal connection to that part of WW2, it was a subject that interested us. So we did a detour from Cape Town, South Africa, via Normandy en route to see our family. We spent three nights with Alison and Malcolm Clough in their lovely home in the country and Malcolm was our personal guide for 2 full days.

Malcolm's incredible knowledge of the Invasion and his passion for the subject brought history alive for us. We stood at inland battle sites, had the drama of capturing bridges played out, visited all five beaches heard amazing stories of heroes – some of whom survived and some of whom sadly died in active service during the Invasion. At the end of each day we visited a war cemetery which was emotional and very sobering. Our days were long but relaxed and totally absorbing.

Alison provided a delicious picnic each day and Malcolm always found the perfect place to enjoy it. We found this so much nicer that sitting in a restaurant and 'wasting time'. There was so much to hear and see. I "found" Malcolm on the website and we reckon we hit Number One. Thank you Malcolm for imparting your knowledge in such a relaxed manner and so patiently. We were enthralled and give you a 5 Star rating. Alison, thank for our lovely studio accommodation, all the goodies in the fridge and your delicious meals. We loved it all and felt very much at home with you.
Of all the things we saw and did during our adventures, two stand out. One was kayaking in the Shetlands and the other was the time we spent with you in Normandy. I looked forward to every day we were in your care, and you two and Peter did a marvelous job. The accommodations were first class, the food was great, and most of all your companionship was the key to a truly wonderful experience. Such good care you took with us to insure we had a good time. Malcolm meeting us at the ferry. Alison's cooking. Peter being Peter. What fun we had! I couldn't help but feel, as I looked at the other tour groups being herded along, that no one was getting the quality experience that we were having. Malcolm and Peter's knowledge of the events and locations was superb (I like to think I know a little about them myself), and brought to life so vividly with their narrative and stories that it stirred up emotions and feelings that surprised me with their intensity. And how many of those other people got to retire to such a nice bit of France, and have dinner and conversation with their hosts in their home at the end of the day, and even get to see their wedding pictures? You made us feel special, but I suppose you make everyone that crosses your threshold feel that way.
To get to walk along the beaches, stand on the bluffs, walk through the shell craters and look down from the cliffs at Pointe du Hoc! I will never forget my moments at the American Cemetery. We thank you so much!
"My wife and I have been stationed in Europe with the United States Army for the past three years, and we recently took a vacation to visit Paris and the Normandy Coast. We planned for a single day to visit Normandy and scheduled a tour with D-Day Tours of Normandy, which is owned and operated by Malcolm Clough. Malcolm was waiting for us at the train station and immediately after showing us to his SUV, the tour began. He was more than willing to modify our trip based on our timeline and interests, and his extreme knowledge and personal excitement regarding all aspects of the D-Day invasion made the trip so much more fulfilling for my wife and I. Malcolm was able to take us to every major site on each of the battlefields, to include the American cemetery, all the while supplementing the experience with his extensive historical knowledge. The tour lasted the entire day and included a lunch packed and prepared by his wife Alison, who operates their catering and B&B business. I highly recommend Malcolm and his tours, he was extremely helpful and willing to work with us based on our schedule. He was a fantastic guide, and the only person I would hire to take my family and friends to the D-Day battlefields."
'Thanks so much for the fantastic day. Your tour of the D-Day sights was the highlight of trip for my aunt and I. Your narrative at Omaha beach made D-Day tangible for me. The tour you gave us of the American cemetery was poignant. The visit to Pont du Hoc was spectacular. We truly appreciate the bespoke approach you took with us- accommodating all of our requests, adjusting on the fly, and giving us a full day that we will always remember and treasure'… Kate Downes, Phoenix, Arizona, USA.

"Our tour … had a definite impact on each of us. We appreciated your style, and the personal nature of the tour. I think when you told us that we were taking the same steps as the soldiers, it really made us think. Also, that the entire world might be a very different place if not for the brave soldiers on D-Day. …Thanks again, you were an important part of our holiday this year"
Stephanie and I are finally back from our French trip and write to express our profound appreciation for your company/services last week. Not only did you enlighten us as to the events on the D Day beaches and beyond, but you made us feel we were touring with a kindred spirit.

We have much more of an understanding for the role Steph's father played in the war, which whilst emotional, especially for Steph, only increases our pride of him – especially having seen the exact places where he fought and some of his friends fell.
It was frighteningly easy to picture him defending the troops with his machine gun in the various woods, fields and ridges on our trip.

This was his story. Having now visited Normandy and the battlegrounds, I can understand why he chose not to tell it. But it was important to Steph and I that it was told, and that his children and grandchildren know what he did. You bought that story to life for us with both facts and understanding, and we thank you.
…
It looked like it was a great deal of work for you, but rest assured every second of it was absorbed by us with great gratitude….
Malcolm and Alison provide an unparalleled experience for a visit to the beaches. His depth of knowledge is extremely impressive. Alison's culinary skills will cause you to want to return solely for her delicacies. If a competitor offered a free guiding service I would turn them down, and still pay for another visit with Malcolm and Alison.
I've been on a number of battlefield tours over the years but none have been as informative or as interesting as yours. It was truly a memorable day and the highlight of my holiday. Your flexibility in accommodating the changing itinerary meant I came away feeling as though I had seen the key sites. You really made the whole experience come alive with your stories and expert knowledge.