One Day U.S. Sector D-Day Tour
This one-day tour focuses on the American Sector of the D-Day landings. We will contrast the mixed fortunes of the American G.I.s landing on 'Bloody Omaha' and Utah Beaches. We will also explore the U.S. Airborne Landings of the 82nd and 101st Airborne Divisions. At the Pointe Du Hoc you will learn how the United States Rangers scaled the cliffs in an audacious mission to neutralise the German gun battery.
The true story of D-Day
Whilst we acknowledge the role that Hollywood has played in raising the awareness of the D-Day landings and the Normandy Invasion through popular feature films like 'The Longest Day' 'Saving Private Ryan' and the Mini-Series 'Band of Brothers' we will explain what really happened on the night and day of 5th / 6th June 1944. Our tour includes a visit to the U.S. Cemetery at Colleville-sur-Mer, an enormously moving part of the day. It is very important to remember that we owe a huge debt to the young men who came from so far away and gave their lives in the cause of freedom.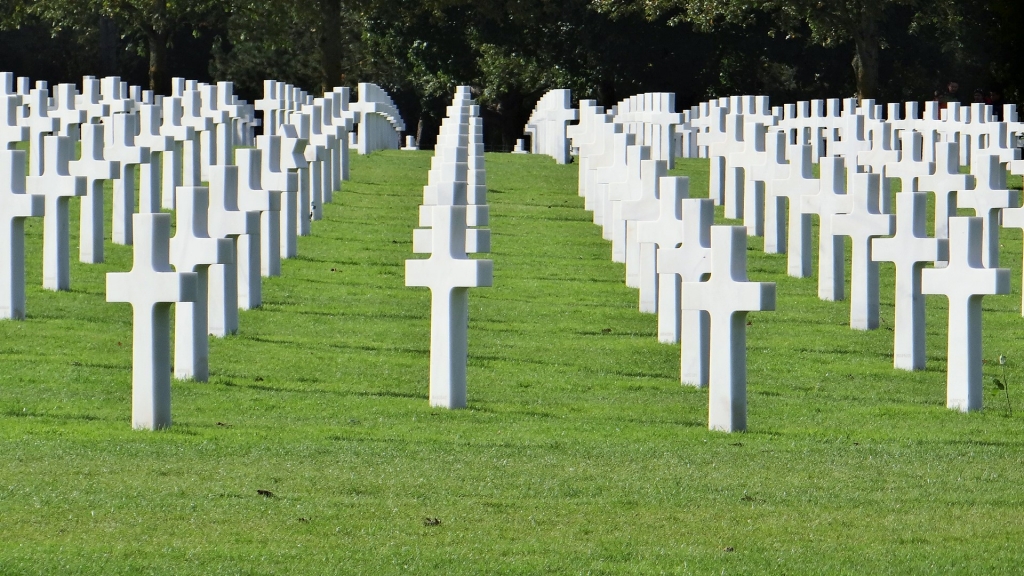 .
One Day Tour Suggested Itinerary
One example of a suggested tour itinerary is as follows, although you can feel free to change this itinerary in any way you wish. We will be at your disposal for the day and we can take you wherever you wish to go.
Omaha Beach
The United States Cemetery at Colleville-sur-Mer
The Pointe Du Hoc
St Mere Eglise
Brecourt Manor
Utah Beach
This tour is a whole day's duration. Transport is by comfortable, safe and stylish 4×4 vehicles. You can be picked up from your accommodation if you are staying in the area, or from a local train station, airport or ferry terminal if you have just arrived. Alternatively, you can arrange to meet Malcolm somewhere that is convenient for you. In general, Malcolm will be available to guide you from 9.00am until 5.00 pm.
D-Day Tours at your own pace.
We cannot over-emphasise that this itinerary is just a suggested one. We can do and see whatever you would like to do. In general, Malcolm will be available to guide you from 9.00am until 5.00 pm.  You can pack as much or as little into your day as you wish. You can set the agenda as you choose. If you become fascinated by some aspect of the tour, we can spend more time there and go into more detail. Similarly, if you have seen enough of something, we can move on. We can stop for breaks, or we can keep going. It's up to you. There will be only you and your party on the tour so you can shape the day to suit yourself.
D Day and the Normandy Invasion brought to life.
Of course, Malcolm will be on hand to suggest and advise and his vast experience will help you make the most of your day. If you let Malcolm know the type of things you want to see, he can suggest an itinerary to make the most of your time. If there are elderly or infirm people in your party, we can take it slowly and avoid places that are less accessible. If you're happy to visit the less accessible, out-of-the-way, less-visited locations, Malcolm will be delighted to bring you there. If you want to visit some location that isn't on the itinerary, we can simply go there. This is a private tour and we can do whatever YOU want to do.
We can recommend and book restaurants to suit every taste and budget, or we can source fantastic packed lunches and picnics. If you would like to visit some place that is completely unrelated to D-Day and Operation Overlord, we can do that too.